Cape Cod insulation installs both open and closed cell spray foam insulation. Our salesman and installers are all Certified and factory trained to provide our customers with the best possible service. Our trucks are equipped with the latest and best equipment that allows us to install our foam products to manufactures standards and specifications.
Spray Foam insulation is made of polyurethane foam – the same kind of insulation appliance manufacturers have used in refrigerators and water heaters for years. The liquid polyurethane is pumped through pressurized spray nozzles – as it lands on the surface of your attic or side walls, it expands to form a continuous insulating barrier.
Unlike traditional insulating materials like fiberglass or cellulose, spray foam insulation can seal and fill all the tiny cracks and seams you might not even see. The seamless material virtually eliminates energy-wasting air filtration.
In addition, polyurethane has the highest R-value per inch of insulation. Because it provides a higher R-value per inch, homeowners using foam insulation can at times use 2×4 construction on exterior walls instead of the 2×6 studs required with traditional insulation. Likewise, it is possible to use 2×10 rafters in your roofline instead of 2×12's. These changes would need to be approved in advance by the building inspector.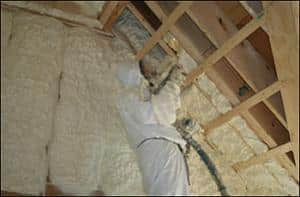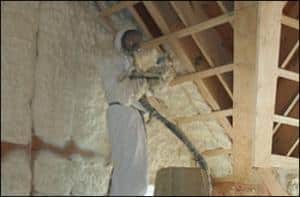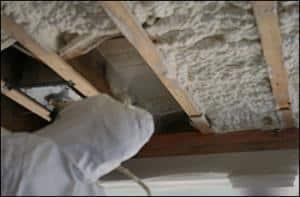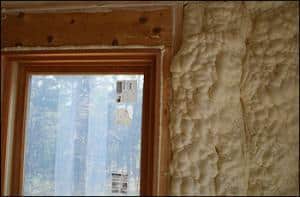 New Standards of Energy Efficienct Spray Foam Insulation:
Agribalance® is an open cell spray foam insulation manufactured by DemilecUSA that is an insulation breakthrough. It is a semi-rigid, open cell polyurethane foam with a high R-Value(per inch) that has set a new standard of energy efficiency.
Agribalance expands to fill all cracks and voids in ceilings, walls and floors to give you a tight, energy efficient home that will provide comfort and value for your family throughout the life of your home.
To read more about Agribalance® visit DemolicUSA.comor DOWNLOAD AGRIBALANCE LITERATURE (pdf)
Heatlok Soy® is a closed cell spray foam insulation with a high R-Value that also works as an excellant air barrior. Heatlok Soy incorporates plastics wastes into its manufacturing process which reduces excess waste in our environment.Heatlok Soy is an excellent insulation for basement walls, crawl spaces and walls of swimming pools and wine cellars. DOWNLOAD HEATLOK BROCHURE (pdf)
Spray foam insulation is a state-of-the-art insulation product that dramatically increases a home's thermal performance. With a superior R-value and unmatched air sealing capabilities, it reduces air leakage while providing the best thermal performance of any insulation product on the market.
HIGH R-VALUE
Spray polyurethane foam has an R-value (thermal resistance) of approximately 7 per inch of installed insulation, making it one of the highest performance insulation products on the market. This means that your home will be warmer, and less drafty, even in conventionally framed construction.
AIR SEALING
Spray polyurethane foam fills all the cracks and gaps within the cavities that it fills, avoiding the common problem of air leakage that plagues other types of insulation such as fiberglass batts. This reduces drafts, and prevents infiltration of moisture and harmful gases.
REDUCES MOISTURE AND MOLD
Because of the superior air sealing properties of SPF (spray polyurethane foam), moisture is less likely to enter your building once it's been insulated with spray foam. This reduces the risk of mold, as well as the risks of rot and structural damage that accompany water infiltration.
OPEN CELL FOAM AND CLOSED CELL FOAM
We offer both open cell and closed cell spray foam products. Closed cell provides a superior air and moisture barrier, making it the most effective insulation available for energy performance. Open cell spray foam is a more affordable option that still provides an air sealing capacity and an R-value that supercede nearly every other insulation product on the market.
For more information about spray foam insulation, or to schedule an upgrade today, contact us here!