If you want to protect your home or commercial building from water damage, you need high quality gutters and downspouts installed by experienced professionals. Cape Cod Insulation manufactures and installs seamless gutters and downspouts for homes and buildings here on Cape Cod. We also install gutter guards for homeowners who want to minimize the maintenance needed for their gutters.
PROTECT YOUR PROPERTY WITH GUTTERS & DOWNSPOUTS
Gutters and downspouts do much more than simply carry rainwater during a heavy downpour. In addition to directing water away from your home, they prevent moisture problems, boost home resale value, increase curb appeal, and protect both you and your property.
Gutter guards, meanwhile, make gutter maintenance simple and save you the trouble of having to climb up and down a ladder to clean out your gutters.
EXPLORE OUR WIDE ARRAY OF GUTTER & DOWNSPOUT OPTIONS
At Cape Cod Insulation, we install eight major types of gutters to suit a variety of needs and home styles. The types of gutters we install include:
5" K-style seamless aluminum
6" K-style seamless aluminum
6" half round seamless aluminum
5" K-style seamless copper
6" K-style seamless copper
6" half round seamless copper
Our experts can help you select the right option for your home or commercial building. Choose copper gutters for timeless curb appeal, or opt for aluminum gutters in one of our many color options for a completely custom look.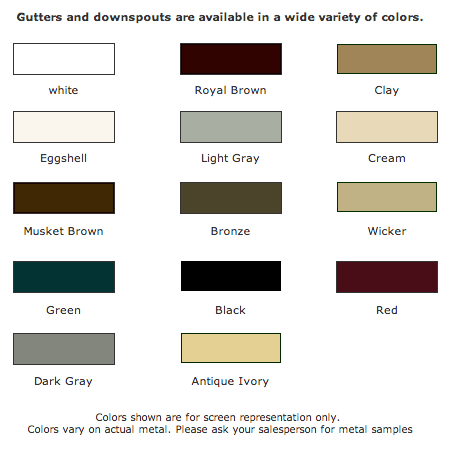 5 inch K-style gutters with 2×3 downspouts are the most common on homes here on Cape Cod. 6 inch K-style gutters with 3×4 downspouts are increasingly common on commercial buildings, as they carry more water and are well suited for larger roof areas. Half round gutters offer an especially sophisticated look and are most common on higher end homes.
If you want simple maintenance for your gutters, we have gutter guards available for 5" and 6" K-style gutters, including one that's specifically designed for pine needles.
CAPE COD'S GUTTER & DOWNSPOUT EXPERTS
Whether you're a homeowner, home builder, or business owner, it's important to find an experienced professional who can install your gutters and downspouts correctly — so you can have peace of mind in knowing that your property is protected from water damage.
Our expert installers measure and manufacture each piece of gutter on your jobsite to eliminate any seams which could lead to water leaks. We also install most of our gutters using a hidden hangers system, which allows for a strong, durable installation that is also more aesthetically pleasing.
Explore some of our recent projects below!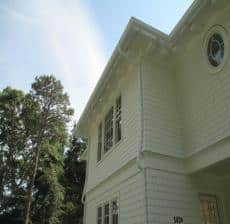 START PROTECTING YOUR PROPERTY AND BOOSTING CURB APPEAL WITH NEWLY INSTALLED GUTTERS AND DOWNSPOUTS. CALL 508-775-1214 OR CONTACT US TO SCHEDULE A CONSULTATION!